Everyday Use Wrist Covers / Arm Sleeves. Please choose amongst 9 colors shown above in this listing.
Decorative element design at wrist may be slightly different from stock photo shown to the right, this depends on daily inventory.
Un-stretched Length = 14 inches
The package will contain a pair of wrist covers, here's one sample item: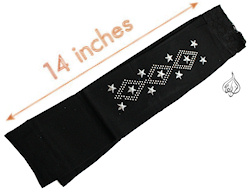 Made using man-made fibers such as polyester, polyamides, and /or nylons. This is not made from cotton.
Beautiful Multi-Purpose sleeves--top quality, bargain price, FAST shipping!

As with every thing I have ever ordered from Alsharifa, this was another fantastic purchase. The sleeves looked even more beautiful than online, fit perfectly, arrived super fast, and were priced so low that I couldn't believe it! They also solved a problem I've had--which is driving my car in bright sunlight, and keeping my forearms covered from the sun. I've had to wear long sleeved shirts, even in summer, until now! So many uses for these sleeves, and so beautiful! Thank you for your ongoing excellence, Alsharifa!